How to Prevent diabetic retinopathy in diabetes mellitus patients
How can we prevent the development of diabetic retinopathy in a diabetic patient? This question is now very common nowadays, especially among diabetic patients. The answer is YES in Ayurveda. There are methods in Ayurveda to prevent this complication of diabetic retinopathy. But you have to consult an expert ayurvedic ophthalmologist for that.
Diabetic retinopathy affects the microvascular system of the eye. One of the most affected areas is that of the retina. In the first stage, of the disease, there will be hemorrhages. Then, clots develop and neovascularization may happen. Finally, the degeneration of the retina is the outcome.
To avoid the development of retinopathy, we need to maintain blood circulation in the eye. Also, we need to maintain the quality of circulated blood. To achieve these, there are effective methods in Ayurveda.
According to ayurvedic principles, diabetic retinopathy is a pitta and Kapha dominant condition. So, functions of Kapha and pitta of the eye should be kept intact to avoid diabetic retinopathy. This can be achieved by some simple methods: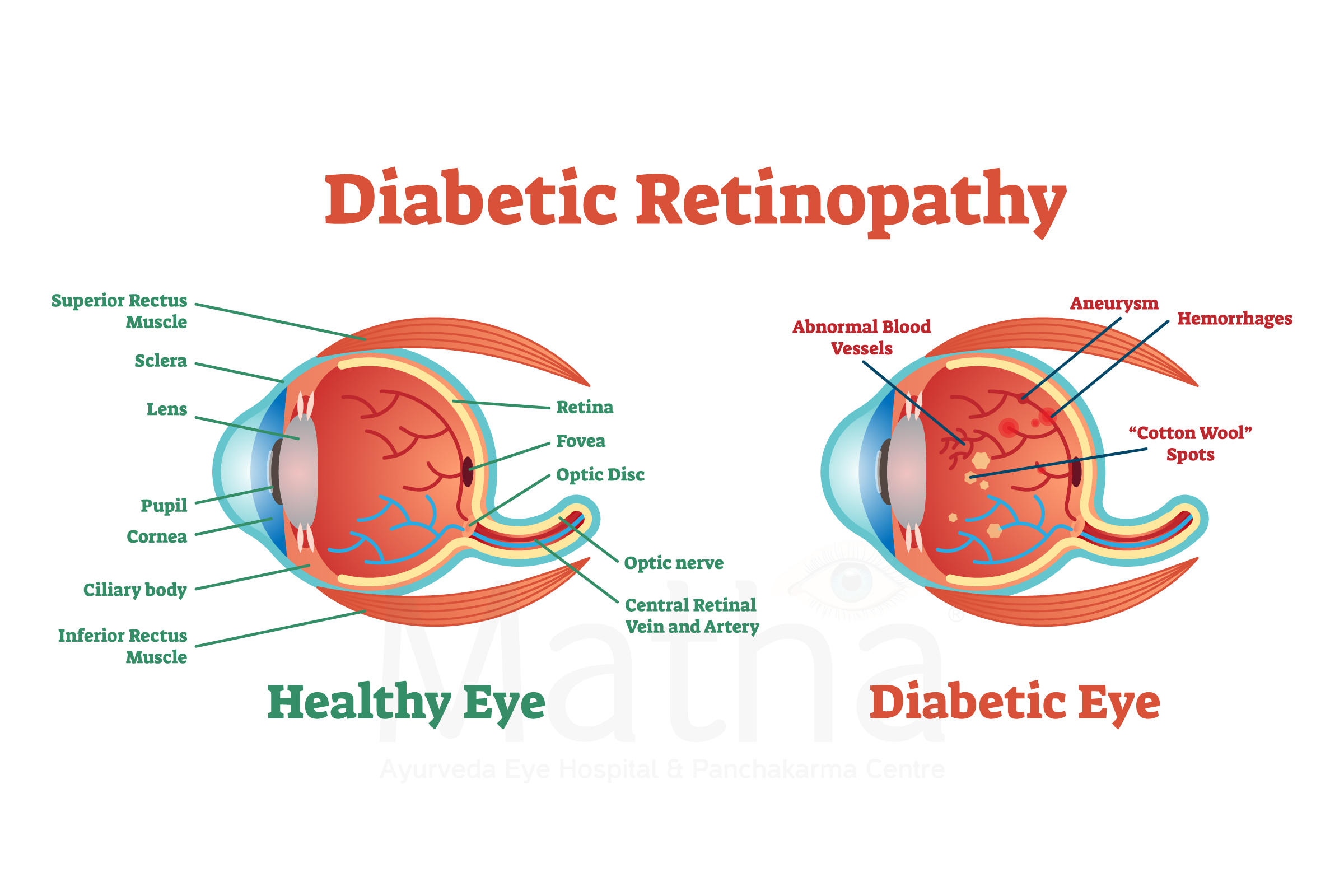 Select a suitable oil for head for daily use because the oil on head has direct influence in the eyes. There are various factors that govern selection of a suitable oil. Body constitution, age and physical features of the body are important factors. Other diseases (if any) and dwelling place of the patient are also considered. So, take an expert opinion from an ayurvedic ophthalmologist before selecting a suitable oil to protect your eyes.
Sirodhara – This is a characteristic procedure in which the medicine is applied in a continuous stream on the forehead for a calculated time. It has direct action on central nervous system, vascular system of the eye, and also the fluid system inside the eye. So, it is to be done only under the supervision of an ayurvedic doctor. The medicine for this procedure is to be selected only by an experienced hand.
Ophthalmic medications – A suitable medicine for external application in the eye can be selected for routine use.
Side by side, medicines and methods to control blood sugar level are also necessary.
How to get eye treatment from Matha
Tell us your health concern via contact form, email, or phone
Fill up the medical questionnaire that we send to you.
Consult our Chief Physician at the time slot we schedule for you.
Need Help With Any Other Disease?
The right treatment helps preserve your existing eyesight and then make your visual organ healthy. This approach helps to protect and improve your vision. At Matha ayurvedic eye hospital, all treatments are customized for each patient by the treating doctor. The clinical-stage of disease, other systemic complaints, dietary regime, and habitual factors are considered before deciding on a care plan.
First NABH Accredited hospital in Trivandrum as well as Entire South India
Our focus is on providing the best ayurvedic treatment to patients
Our Kitchen provides veg diet suitable for ayurveda and yoga.
Matha is not a research Institute. We do not conduct research on our patients.
We prepare herbal medications in our own GMP certified manufacturing unit.

"The treatment and facilities provided are best.The staff and doctors are very good . A good atmosphere is the best thing I found here. Dr P K santhakumari madam is best and caring . The way she approaches the patient is excellent ."
"Really great treatment and calming surrounding for patients.Dr.Santha kumari Mam ,Dr. Athira,Dr.Heera and therapists Dhanya Chechi ,Suma Chechi and Sreekala chechi were absolutely appreciated for their support and care.Highly recommended ."
Frequently Asked Questions
What all should I pack before travelling to Matha for my treatment?
Trivandrum has a very humid weather. Hence light and comfortable cotton clothes are your best choice. We do not allow footwear's worn outside to be used indoors. Hence, indoor slippers (or flip flops) are also necessary. Personal use items such as bath towel, soap, shampoo, toothpaste, toothbrush, shaving sets, etc. are also among the items to be packed. As rains are very common, an umbrella would come in handy. If you are in the habit of drinking hot water, a flask would be needed.
In our deluxe rooms, bath towels, soap, toothpaste, toothbrush, slippers are provided and need not be packed.
What if I forget to pack something?
We are there for your help. Please inform our reception team members, and they would be happy to solve your problems.
What is my diet going to be at Matha?
Doctors decide your diet based on your clinical needs, your treatments and medicines. However, on a general note, your day starts with tea/coffee/herbal drink. Then you have the breakfast at 9.00 am. This is normally dosa / idli / puttu which keeps on rotating. You may also order for bread toast / upuma. A juice suited for you will be served at 11.00 am. For lunch, we have a typical south Indian diet which consists of chapathy and rice with 3 types of curries. The rice is normally boiled rice. However, you may place a special request for white rice / chapathy only also. Eggs can also be added on request. Evening tea is served at 4.00 pm along with snacks. Dinner is served at 7.00 pm consisting of Chapathy and veg curry. Kanji is also available on request.
Those requiring special diets would be served with the appropriate food as per doctors' instructions.
How is a day going to be at Matha during the course of my treatment?
A normal day during your cure at Matha would be scheduled as given below. It is a relaxed schedule. The intention is to create an environment enabling you to reset your habits and sleep cycles. You need to spend time with oneself and nature in solitude and silence. Thus, you are able to connect with your mind and soul. This connection will support in natural healing.
06.00 - 07.00 am wake up, daily prayers, meditation and time for daily rituals
07.45 - 08.00 am Preparation for your daily treatments
08.00 - 08.30 am Early treatments
09.00 - 09.30 am Breakfast time
09.30 - 11.00 am Morning treatments, time to connect with your mind and soul
11.00 - 11.10 am light juices
09.30 - 01.00 pm Morning treatments and consultation with physicians
01.00 - 02.00 pm Lunch served in room
02.00 - 04.00 pm afternoon treatments and relaxation time
04.00 - 04.10 pm Evening tea / snack time
04.10 - 05.30 pm afternoon treatments and rest thereafter
05.30 - 06.45 pm Time to interact and meet with other guests
06.45 - 07.30 pm Dinner served in room
07.30 - 09.00 pm Time to fill your mind with good thoughts and get ready for a good sleep.
In addition to the above schedule, internal medicine is an integral part of your curing process. They would be given to you at the right times (early morning, afternoon, evening and before sleep) by our medical team. Yoga is not part of daily routine unless prescribed by your physician.
Is laundry service available at the hospital?
Inhouse laundry service is available. Laundry can be handed over to reception and will be returned after washing. We have only a basic laundry and not a high-end professional service. Pressing / Ironing is NOT done.
How is the weather in Trivandrum?
Trivandrum is the southernmost district of the state of Kerala. The weather remains more or less the same during summer and winter season. The temperatures vary between around 35 to 22 degree Celsius in summer, and between 20 to 32 degree Celsius in winter. We normally have very heavy rainfall during the months of June to august. The average humidity in Trivandrum ranges between 68 to 70 percentage.
Can I plan sight-seeing trips in and around Trivandrum during or after my treatments?
We focus on solving your health concern. Everything else is secondary to us. We recommend you to take maximum rest and to concentrate on your healing during your treatment at Matha.
For patient undergoing eye treatment, sightseeing trips may be allowed only during the initial days of treatment.
For panchakarma treatments, trips are allowed only after the intensive cleansing procedures.
We strongly discourage sightseeing during intensive treatments. Any such trips will be decided only after discussion with the doctors.
What modes of payment do you accept? What about forex services?
We accept cash, cards, and direct transfer to a bank account. We DO NOT accept cheques. Requests for exchange of foreign currency would be handled by reputed forex service companies at Trivandrum.
Can I plan my travel by including trips to other parts of India along with my treatment?
If sightseeing is a serious agenda for you, then our advice is to finish it off before arriving for treatment. Do not stress yourself immediately after completing the treatments.
What about mosquitoes and pests at the hospital?
Trivandrum is blessed with a tropical weather. The abundance of flora and fauna, definitely attracts pests and mosquitoes. Matha uses herbal methods to keep them at bay and to have a safe environment and co-living. We also advise you to keep the doors closed and to use mosquito repellants during the evening times when mosquitoes are most active. We also ask our guests to abide by our policies on food waste management to minimize pests in rooms.
Is yoga a part of my daily activity at Matha?
Yoga is NOT a part of your daily activity unless prescribed by your treating doctor.
What types of room are available at Matha?
We have three main categories of room:
1 -Simple room. This is a basic Non-AC room with a single bed and attached bath. A small side-bed is also available in this room.
2 - Double Room. Here, two beds are available. AC and NON-AC categories of double room are available.
3 - Deluxe Room. These are our premium rooms, with AC and Queen size beds. Bath towels, soap, white sheets, and pillow covers etc. are available in this category.
Are pickup / drop services available?
Pickup / drop services are available from airport / railway station etc. by our own vehicle or one of our trusted partners. Please inform your pickup / drop requirement in advance so that it can be planned.
Why is Matha NOT allowing room booking on travel and booking sites like booking.com, TripAdvisor etc.?
Matha is an Ayurvedic hospital, NOT a Resort, NOT a spa and Not a hotel. Being a medical facility, patients have to submit their medical information and complete a medical consultation (either in-person or online) with our medical team to assess the clinical stage of the disease. After this consultation, we can decide treatment plans, duration of treatment, etc. Since treatment booking is possible only after completing the above steps, we have a medical helpdesk to help and guide patients to get treatment.
Matha has three hospitals in Trivandrum. You can opt for any one of our hospitals, rooms will be provided based on availability.
Helpline
9.00 am to 6.00 pm
OP Timings
9.00 am - 5.00 pm
Appointment only