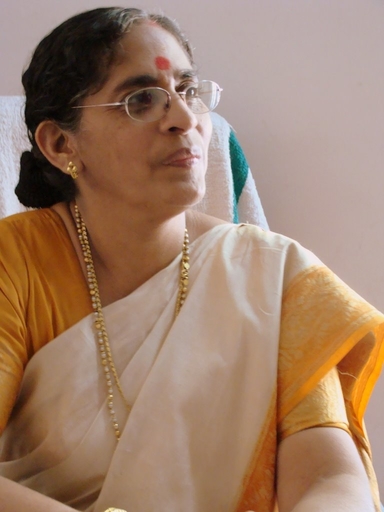 Dr P K Santhakumari M.D (Ay)
Founder and Chief Physician, Matha Ayurveda Eye Hospitals
Completed P.G in Netra Chikitsa from Govt Ayurveda College in 1982. 

Worked in Various Ayurveda Colleges of Kerala during the period 1983 to 2010 and retired as Professor, Dept. of Shalakya, Govt. Ayurveda College, Trivandrum in 2010. 

After Retirement from Govt. Service, joined as Professor and H.O.D, Dept. of Shalakya at S.N Ayurveda College, Puthur, Kerala in 2010 to 2014 

Professional Memberships / Affiliations

State Executive, AHMA (Ayurveda Hospital Management Association)

Former President, Shalakya Specialist Association, Kerala

Former President, TAS (During 2008 to 2010)

Fellowship, National Sushrutha Association. 

Publications 

Published more than 50 papers in various National and International Seminars. 

Published numerous articles on the subject of Shalakya Tantra in various journals, magazines and other media. 

Eye Disease and treatment – Book published by Kottakkal Arya Sala

Ear Nose Throat Diseases and treatment – Book published by Kottakkal Arya Sala

A Textbook of Ophthalmology Published by the author – Approved syllabus textbook by CCIM

Nethra Samrakshanam – Published by the Author (Intended for General Public)

Awards / Felicitations

First prize in national competition on Eye Diseases and treatment 1983

Second Prize in national competition on E.N.T Diseases and treatment. 

Best Teacher (Athreya Award) – Govt. Of Kerala in 2007. 

Legend Shalaki – National Award from the association of Shalakis (TAS) in 2014

Founder of First NABH accredited Ayurvedic hospital in Trivandrum as well as entire South Kerala

Guru, Rashtriya Ayurveda Vidyapeeth, New Delhi

Present Activities

Founder and Chief Physician, Matha Ayurveda Eye Hospitals 

Chairman, Matha Ayurveda Healthcare Pvt Ltd, An ayurvedic pharmacy exclusively for manufacture of ayurvedic eye treatment medicines. 
Matha Consultation Request Form
In case of a medical emergency, DO NOT wait for the above process. You can inform your situation at our helpdesk ([email protected] / 9847195533)
Matha has three hospitals in Trivandrum. You can opt for any one of our hospitals, rooms will be provided based on availability.
Helpline
9.00 am to 6.00 pm
OP Timings
9.00 am - 5.00 pm
Appointment only